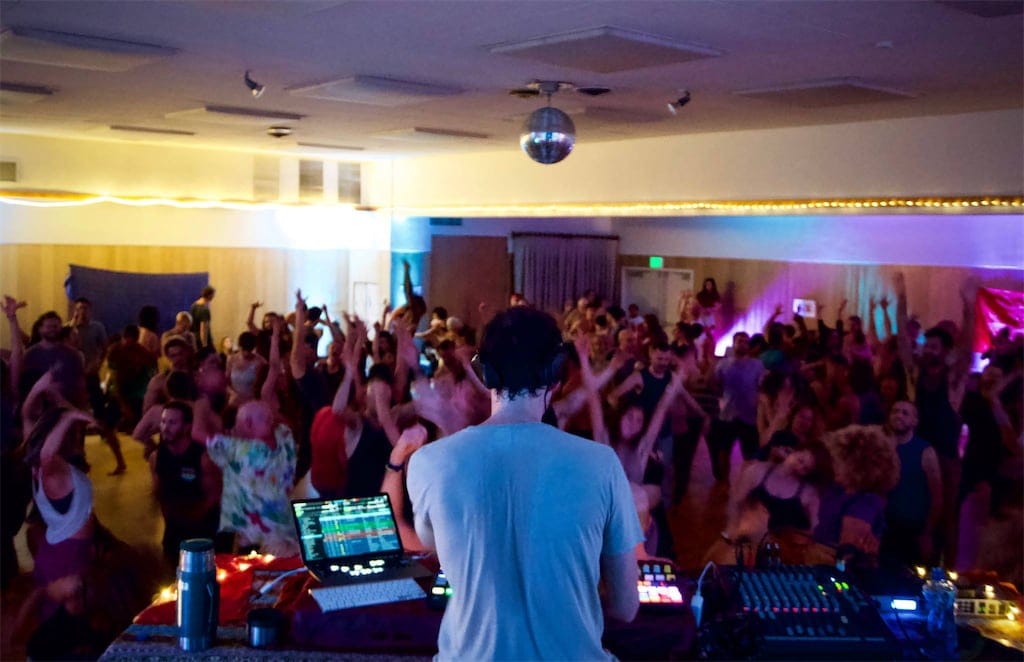 Why All DJs Should Know What Ecstatic Dance Is
What if I told you there was a fun gig where you can play to a captivated audience that is there to really dance, and you can play almost any style of music that suits your tastes? What if there was a gig ...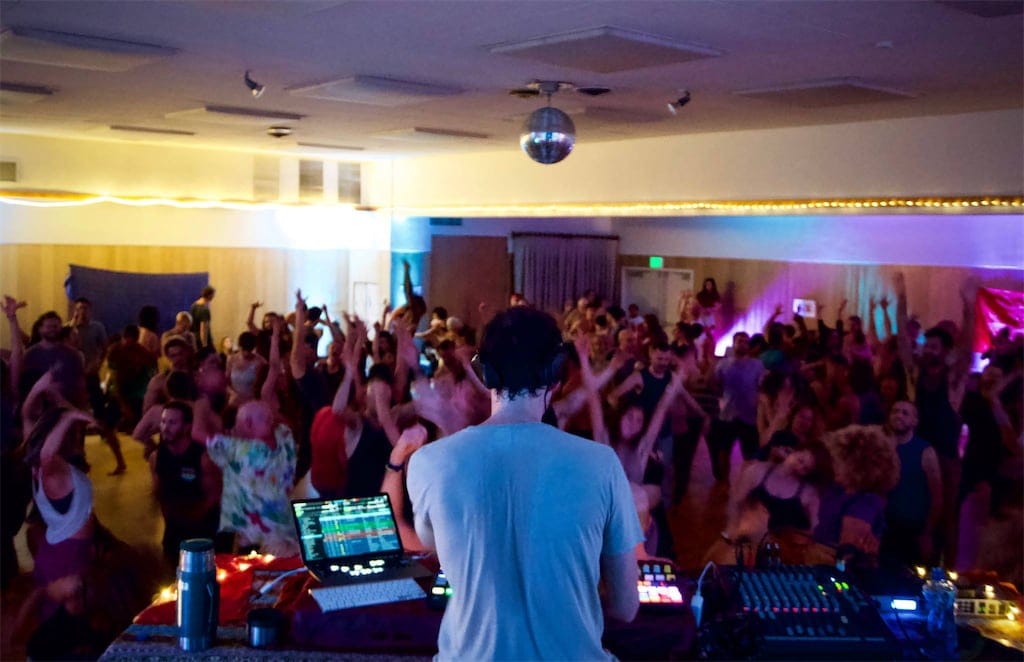 What if I told you there was a fun gig where you can play to a captivated audience that is there to really dance, and you can play almost any style of music that suits your tastes? What if there was a gig that takes place during reasonable hours so you can enjoy a set without staying up until 2 am and tanking your liver in the process? For some DJs – like myself – Ecstatic Dance is a welcoming home where my creativity can flourish. While it's not for everyone, all DJs should be aware of the format behind these gigs as a useful tool that can be utilized in every DJ set.
A great night of music is not unlike a play or a movie, telling a story that moves people through a process. We have all heard the complaint "It sounded like the same song all night long!" That problem is a direct result of some DJs not playing with emotional arcs that weave through the songs.
Fortunately there are many kinds of emotional arcs and archetypes that we can utilize to pull people into the storyline. In a popular past article, I demonstrated how the 5 Rhythms system follows a natural pattern that people inherently understand at a subconscious level. When we get hooked into a story, a movie, or a DJ set at that fundamental of a level, it really becomes magic.
The Ecstatic Dance format is another archetypal storyline that you can follow, integrate, or re-engineer for your own sets. Keep reading for my insights – as well as my exciting new release of original music designed specifically for this format.
What Is Ecstatic Dance?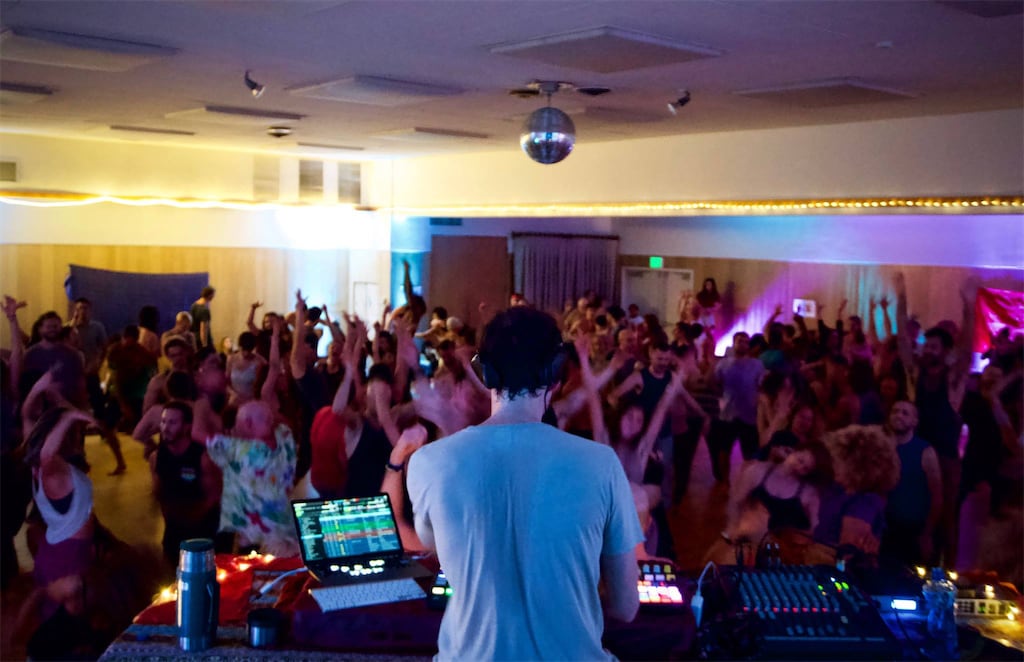 Ecstatic Dance is a freeform dance practice that happens all over the world in small and big spaces. It is usually 1-3 hours long and always has a DJ who is mixing music together like a club. The big differences from your typical club are:
There is no talking on the dance floor
There are no drugs or alcohol allowed and people are encouraged to remain sober
Event times is often in mornings or early evenings
Rather than a social escape, these are places where people go to connect deeper with themselves
There will often be a movement class or yoga opening at the start and a sound healing closing at the end
Diversity of music genres is encouraged and expected
Most people come for the full "journey" and go through the steps together
Generally, photography is not allowed
Falling much more in the yoga and mediation world than nightlife, Ecstatic Dance is a way for people to move their bodies, enjoy amazing music, and find community in a space that is welcoming of all types of people. It evolved out of the worlds of open floor and 5 rhythms, where people wanted an intentional experience with high quality DJs.
What Is The Flow Of Ecstatic Dance?

Roughly speaking, a good Ecstatic Dance will often present several peaks or waves of emotion that can be experienced as a "birth and death" cycle. The music will almost always start at a low volume, energy and tempo range as people wake up their bodies. As the tempo and energy increases, there is usually an ecstatic moment of catharsis, with the group peaking in energy and movement together. After that high point, the energy subsides back down to a resting place that becomes focused more inward. There can be one single wave across the 2 hours of the event, or several, depending on the DJ.
Here is one way in which the Ecstatic Dance community has described their wave in 6 phases. I have provided audio examples from my new album, which contains 17 original songs that cover the full ecstatic dance journey.
Arrival: gentle. awakening. graceful. flowy. innocent. stirring.
Arrival tracks welcome the community to the space and the dance floor. They help the dancers feel present, safe, and grounded. It's the potentiality of dance foreplay. Arrival tracks set the container. (The tracks begin as ambient and move into the downtempo realm.)
Buildup: driving. insistent. throbbing. thrusting. playful. intensifying. rising.
Buildup tracks get the energy moving. The beats are driving and percussive. They help the dancers develop dynamic tension. (Typically, they are mid-tempo.)
Peak: wild. surging. chaotic. orgasmic. soaring.
Peak tracks are for catharsis and climax. The beats are assertive, and the bass drops are powerful. (Typically they are high tempo.)
Cruise: steady. deep. unwavering.
Cruise tracks are played between peaks, giving the dancers a chance to get recharged. They are the antidote for beat fatigue. They aren't moving the energy up or down. (They are typically high tempo with temperate beats.)
Landing: airy. lyrical. angelic. nostalgic. flitting.
These tracks carry the dancers down from the final peak into the heart.
Integration: peaceful. still. drifting. fulfilled.
Integration tracks are played at the end of the journey to hold the "beingness" after all the dancing "doingness". They differ from Arrival tracks in that they feel more emotional, reflective, and resolving. (They are chill and ambient.)
All of the songs in my album "Love and Shadow – An Ecstatic Dance Journey" are designed to be used by DJs, with each one providing a different purpose in the wave of a night. Download or Listen to the full album here
What kind of music is played at Ecstatic Dance?
Musically, ecstatic dance can be very diverse. It requires that the DJ be able to weave together a wide range of styles and tempos. Generally you can expect music in the electronic genres, especially Bass, House, Tribal, and Trap.
"The objective is not to cover specific styles of music but rather to pick pieces of music that evoke a full range of emotions"
Most people come to these events to really let loose, free their minds, and move however their bodies want to move. The DJ has an incredible opportunity to curate the emotional arc of that journey with anything you want. Typically this will include some hard-hitting music from a variety of genres, but also very soft pieces of music and even instrumentals that really drop people into their bodies. It's this wide dynamic range which produces the experience of ecstasy and catharsis.
Here is an example of a longer set that I played live at the Los Angeles Ecstatic Dance
Why I Love Ecstatic Dance
Several years ago, I was super burned out on club culture and only playing one style of music. I also made the choice many years ago to cut out drugs and alcohol from my lifestyle and found that to work well for my personal body type. Without stimulants, it can be really hard to stay up through late nights and keep your energy synced up with the crowds, so I took a break from touring and largely stopped DJing out.
Fortunately I discovered 5 Rhythms and Ecstatic Dance, where I began to dance again myself. It was through the process of re-discovering my own bliss that I became interested in playing for others again. I volunteered to play for the local San Francisco dance, and it felt like everyone really enjoyed the experience. With a background in house and techno, I tend to play the arc differently than most DJs – which seemed to be a welcome change.
I loved the ability to play a wide variety of music, all of it being high quality stuff that I personally love and want to dance to myself. Too many times (especially in the commercial world), – DJs are forced to play popular music repetitively that we just don't like. In this format, popular music and words are generally used very sparingly, with the emphasis appropriately being on quality and the impact of the songs.
It was such a welcome change to play with a group of people that are also sober, alert, and ready to tear up the dance floor in a fully conscious way. Today, I play 1-2 dances per month in cities around the world. They are much more grassroots and underground than clubs, but I love the community feel which comes with such a small intimate world.
What's Not So Great
Before you run out and attend one or start playing these events, there are a few minor downsides as well. I personally feel these are vastly outweighed by the pros, but these might be a bigger deal to others:
DJs are expected to bring their own equipment – CDJs and mixers are never provided
The pay is significantly lower than most bar/club gigs
Crowd sizes can range 20 people to 500 but typically are around 100.
DJs are expected to play the full wave of music. A single set of house music, for example, would not go over well.
This is a very grassroots, health, and wellness oriented crowd. While it's gaining wider traction, there are a lot of new age elements present, which might make some people very uncomfortable.
Dancers are given full permission to move however they want/need. This can sometimes include making noises and moving in very unconventional ways. It's edgy and beautiful, but may also be uncomfortable for some.
There was a time in my life where events like these were simply not appealing at ALL (to put it mildly). Now, as I have gown older and loosened up considerably, I love to look out of see a group of grown men beating the floor in ritualistic fashion, and smile at the beautiful absurdity.
There is a time and place for everything, and I suspect for many older DJs out there, this might be just what you have been looking for. Others might find themselves judging and hating every element, wanting to run out the door.
"Ecstatic Dance is a safe place where everyone, regardless of their experience is welcome. It's a practice in staying with those feelings (positive or negative) and allowing them to move through you on the dance floor"
How To Get Involved
To get involved, I would encourage all DJs to break out of their comfort zone and attend a local dance yourself to experience the process yourself. A complete list of all dances can be found here.Once there, ask who the local organizer is, and see if there is a way to submit your mix to be considered.
You can get all the songs from my album, as well as many other music tools from the new record label Ecstatic Dance Records, which was been founded to provide high quality music in this format.
Source: DJ TechTools